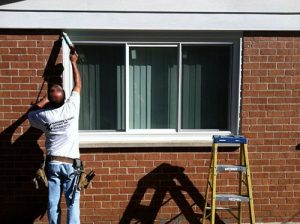 The quality of your home will impact your overall lifestyle and personal satisfaction. Do you come home after a long day at work and look forward to an enjoyable evening with your family? Or, do you cringe when you walk in the door because your home is in need of repair?
It can be stressful to live in a run-down home. The problem is that many homeowners find it difficult to find the time to make the necessary upgrades. If you want to maximize your lifestyle, it would be helpful to talk to our team at Masonry & Glass Systems Inc for more information about replacement windows and doors. We offer services in Clayton, MO and the surrounding areas.
Here are a few things you'll want to keep in mind as you are getting ready to upgrade the doors and windows in your home:
Step #1: Make the Decision to Upgrade Your Home
The first step is to commit to making the upgrades for your home. Some homeowners are wishy-washy about investing in home improvement projects. As a result, these efforts stay on the back-burner for years. If you are undecided about whether you want to improve the quality of your home, you will find it hard to get started with any project.
Consider the benefits available for your family if you choose to invest in your property. Not only will you improve the appearance of your home, but you can also upgrade the function at the same time. After the new doors and windows are installed, you will be glad you were proactive with the upgrades.
Step #2: Hire the Right Contractor
Choosing a window installer is an important decision because it will impact the quality of your home upgrades. Pick a contractor with a great reputation, so you know you will receive top-notch products and excellent installation services. Don't delay the conversation with a great contractor. Involving an expert early in the decision-making process can help you learn more about the products.
Here at Masonry & Glass Systems Inc, we have many years of experience in the window and door industry. Our goal is to offer the best service to every customer. As you learn more about our reputation, it will be easy to see why you will benefit from working with our company.
Step #3: Identify Your Goals
Why are you planning to spend money on replacement windows and doors? Knowing your goals in advance will ensure that you pick the products that will best support your family. Some homeowners have the goal to improve the appearance of their home, while others are focused on energy efficiency. These goals can affect the types of products that you select.
It is a good idea to consider both function and style when you are determining your goals. You want to have high-quality windows that are beautiful, durable, and built to perform! Here at Masonry & Glass Systems Inc, we will gladly schedule a free in-home estimate to evaluate your goals and identify the products that are a good match for your family. By asking the right questions, we can learn more about your preferences.
During the goal-setting process, you also need to consider your budget for the project. Set a budget that will give you room to pick top-quality products without sacrificing the financial security of your family. Our team will help maximize your efforts so you receive excellent value for the money you spend.
Step #4: Pick Your Products
Now that your goals are set, you have guidelines to follow as you are picking replacement windows and doors. You can evaluate the overall style of the products offered and compare function at the same time.
By narrowing down your choices within these parameters, you will find it much easier to select the right products and services for your family. Our team at Masonry & Glass Systems Inc. wants to help you simplify the process. We are always available to answer your questions and make suggestions.
Step #5: Schedule an Installation Time
If it is time to schedule an appointment for your installation, contact your contractor and they will find a time that works for you. The benefit of hiring an experienced team is that you can sit back and let the experts handle everything for you. We offer full-service installation that includes taking out the old windows and cleaning up the debris after we're done.
As you can see, you can upgrade your home in five simple steps. If you are ready to learn more about replacement windows and doors, we invite you to contact us at Masonry & Glass Systems Inc. We offer high-quality services to homeowners in Clayton, MO, and the surrounding areas. You are always invited to come to our showroom at1503 S Kingshighway Blvd St. Louis, MO 63110. Or, call us to set up a time for a free in-home estimate: (314) 535-6515.
Client Reviews