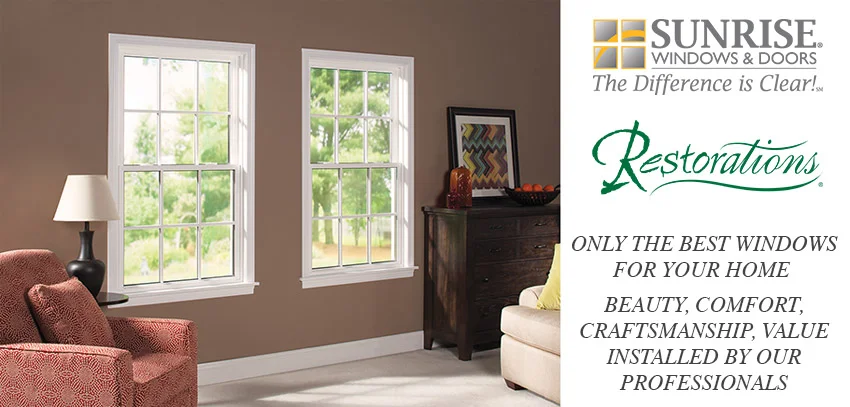 Do You Wish You Had New Vinyl Replacement Windows with Triple Pane?
1. 57% better insulation factor than dual pane.
2. 20% more resistant to condensation.
3. Will further reduce solar heat gain in the summer
4. Much better protection from outside noise
5. Added security of 3 layers of glass between you and the outside.
You can buy the future in window technology today. This represents real value and will add significant comfort to your home as drafts near your windows will be eliminated. As the U.S. Government through EPA continues to mandate more efficient windows triple pane will become the glass of choice for more and more replacement window manufacturers. This offer gives you the ability to buy one of the best windows in the marketplace, Sunrise Restorations, with a glass package that truly makes this window the last you will ever need. Replacement vinyl windows from Masonry & Glass Systems, a luxury that now makes more sense than ever before.
What Makes Restoration's Energy Ratings the Best?
CLICK HERE TO LEARN MORE…
Why is Air Infiltration So Important?
CLICK HERE TO LEARN MORE…
Restorations Brochure
CLICK HERE TO DOWNLOAD…
or

The Beauty of Restorations Vinyl Replacement Windows by Masonry & Glass Systems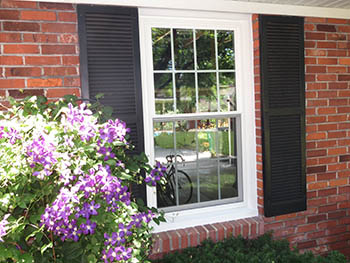 Are you looking for affordable replacement double hung windows in St. Louis? The beauty of Sunrise double hung windows starts with an elegant cove-mold face. Due to new NOT JUST SKIN DEEP World Class Stürtz robotic equipment, these windows have smooth micro-abraded corner seams, perfect welds, and very tight tolerances of 1/32″. These features add to their elegance and eliminate air leaks. The beauty of this window goes deeper, however, to what you can't see.!!!
It Starts with an Elegant Cove-Mold Face
Stunning new Cove-Mould Face on exterior creates a detailed wood-look.
World Class robotic construction adds elegance while eliminating air leaks.
The buttery smooth operation of the window due to the balance of the Sunrise design.
Invisible tilt hardware system enables one-touch operation of the tilt-in feature.
Beauty, elegance, energy efficiency and easy function! Four great reasons to invest in Sunrise Restoration windows by Masonry and Glass Systems!
Design a Window That Really Reflects Your Style
With Restorations, you create a beautiful view you will enjoy day after day. Choose the interior color or woodgrain that will best complement your home's existing trim.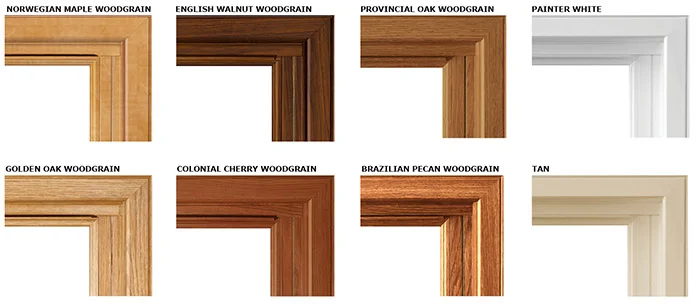 Madera Custom Interior Trim
In, addition, inspect your interior trim and drywall around your windows. You may see scratches, fading or water damage. You can specify brand new interior trim from Restorations called Madera. With Madera interior trim you can completely transform your new windows to a beautiful totally finished look.
Madera is made from furniture quality oak or maple and comes pre-finished and pre-assembled for as faster, mess free installation that eliminates the need for a painter and so your job is finished quickly. It is available in a variety of finishes to coordinate with your windows.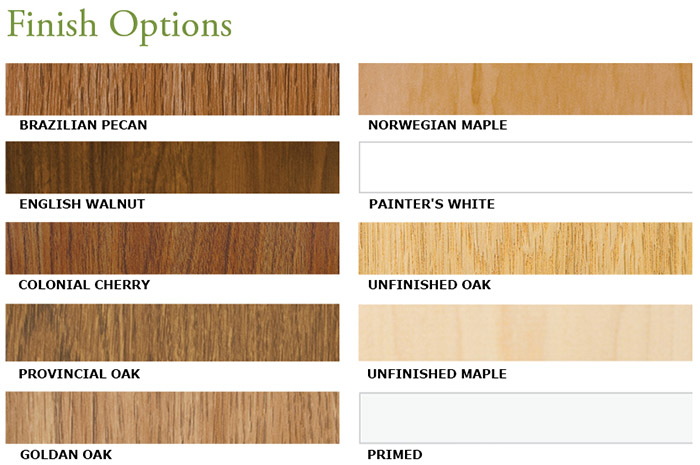 Casing Profiles
You can select the casing profile you would like as well as keeping your existing window sill design or change it effortlessly with Madera.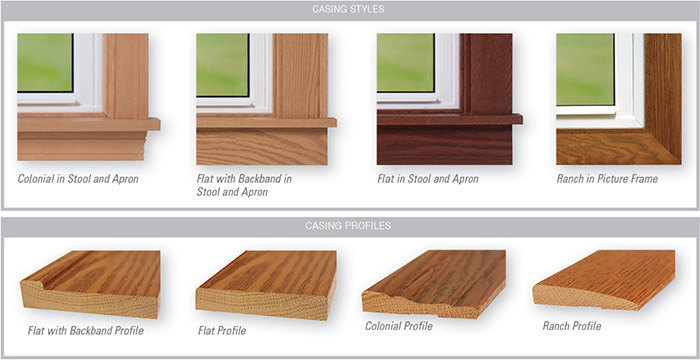 Beauty. Comfort. Craftsmanship.
Our factory trained installers can transform your entire interior look with Madera at a fraction of the cost of custom carpentry and also offer installation speed and convenience as the Madera arrives with your new windows and is installed at the same time.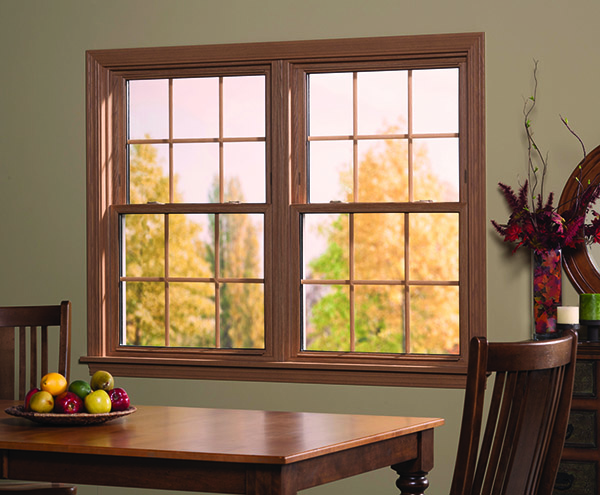 Transform your new windows, affordably, and without a hassle, just ask us for a Medera option when we consult with you.
Noise Reduction Glass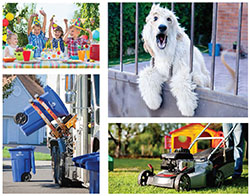 The outside of your home can be full of unwanted sounds, lawn mowers, traffic noise, barking dogs and on and on. You can dramatically reduce this invasion into your home at very little additional cost with noise reduction glass NRG from Restorations. Sound reduction in windows is rated for comparison using Sound Transmission Class or STC. The higher the STC rating the greater the noise reduction performance.
Typical single pane windows have an STC rating of 20. A typical dual pane replacement window will have an STC rating of 26. The Restorations window with Noise Reduction Glass NRG will have an STC rating of 33.
As you can see by the graph in comparing single pane to Restorations you would hear half of the sound you hear now. And if you replaced dual pane windows with Restorations with NRG you would have a clearly noticeable reduction in outside noise.
All of this can be accomplished with very little additional cost over glass that is not NRG. In addition you sacrifice nothing to get the noise reduction you want as Restorations NRG is very energy efficient and will save energy costs just as well as glass that is not NRG.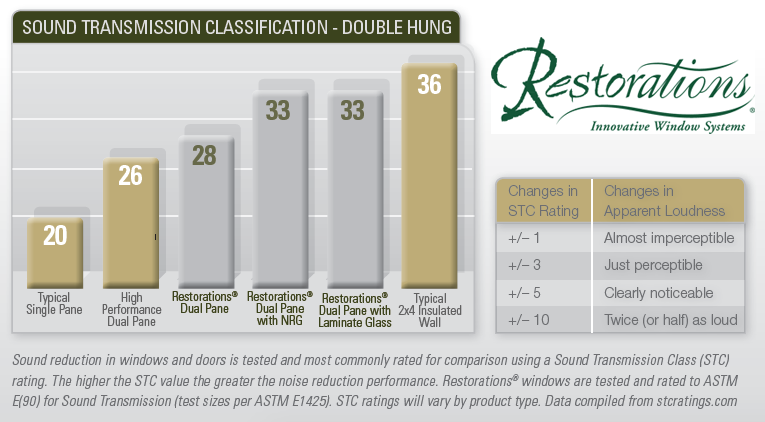 Glass That's Easy to Clean With SolarClean
Self-Cleaning Glass is a permanent titanium dioxide layer that is part of the outer glass surface. After installation, the Sun's ultraviolet rays break down dirt and debris on the glass, which rain will then wash away. Best of all there's very little spotting or streaking, and it's powered by nature. Think about your second floor windows especially if you have a two story great room. Wouldn't it be great if you did not have to hire a window washer nearly as often or did not have to put up with dirty windows. The slight extra cost of Solar Clean Glass will pay for itself in reduced maintenance and a more beautiful window.
Click on the images below to view larger size
Replacement Double Hung Windows in St. Louis