Decorative Glass Doors in St. Louis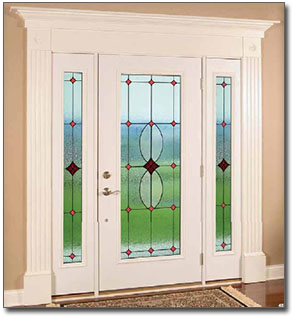 Looking for art glass doors for your St. Louis Home? Inspirations Art Glass is the perfect blend of craftsmanship and technology. Select your favorite from five designer color palettes and combine with your choice of five original designs to show your personality on your home's entryways and windows. Designer Color Palettes (with art of the color palette beside each name) Coral Reef, Caribbean, Vineyard, Timberland and Sedona.
Each Inspirations Art Glass piece is made by hand. The possibilities of color variations, striations and other natural effects mimic the look of stained glass. They are a natural characteristic of a hand-made product.
For more information on Provia Door contact us
Click Here To Download The Provia Brochure
Art Glass Doors
Vintage Series:
The Vintage Series features the rich beauty of diamonds in a simple yet sophisticated pattern that passes the test of time.

Cosmopolitan Series:
The Cosmopolitan Series eloquently expresses your contemporary flair in the ultimate fashion statement.

Tulip Series:
The Tulip Series adds an eloquent country warmth to your home that will be the talk of the neighborhood.

Synergy Series:
The Synergy Series is an exciting blend of geometric shapes and colors.

Harmony Series:
The Harmony Series blends bold curves and subtle diamond shapes with the feathery frost-like texture of glue-chip glass for privacy and traditional elegance.

Aztec Series:
The Aztec Series was inspired by the works of Frank Lloyd Wright and is reminiscent of America's Southwestern culture.

Mirage:
The Mirage Series is the ultimate statement for welcoming guests in your grand front entryway. The full-lite door style will illuminate your entryway, while the obscurity of the glass secures your privacy.