When Should You Replace Windows In Your Home?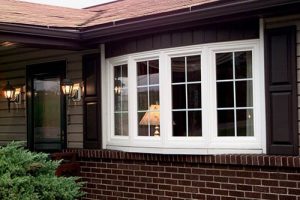 Are you working to improve the appearance of your Webster Groves, MO home this year? The quality of your property plays a big part in setting the right impression for friends, family, and neighbors who visit. If you want to leave people with the right impression, you need to be proactive about improving the overall appearance of your home.
You will see that there are many types of home improvement projects you might use to update your property. How do you pick the best investment? It is essential to consider the cost of the project and the long-term benefits you will enjoy.
Here at Masonry & Glass Systems Inc, we specialize in replacement windows and doors. Our team wants to help you see that upgrading your windows should be at the top of your priority list.
Do You Put Off Your Home Improvement Projects?
What is the right timing to invest in home improvements? It is easy to let these things fall to the backburner. Many homeowners are busy with work, family, and other responsibilities. Where do you find time to put in the effort to improve your home?
Luckily, you don't have to invest sweat equity when you want to upgrade your property. Instead, you can hire experts to handle the difficult tasks for you. Make sure you pick the right team so you can have a stress-free experience.
Here at Masonry & Glass Systems Inc, we provide a no-pressure environment where you can learn more about the window industry without being rushed into a decision. We will gladly answer your questions and put together an installation schedule that will work best for your family.
What Are The Cost Factors To Consider?
As you are considering the investment of replacement windows and doors, there are several factors you need to evaluate. First, get estimates for the investment you will need to make to install new windows in your Webster Groves, MO home. These estimates will help you determine your budget for the project. Either, you'll choose for your home windows a vinyl window, wood windows, bow windows, doublehung windows, sliding windows depends what will match up to your home.
Make sure you know the value you will receive for the money you spend. Don't make the mistake of cutting corners or decreasing the value of your new windows just to save a few dollars. Buying the right windows will be the best long-term solution for your family. It is important to get the job done right!
Also, look at the money you're paying while the old windows are still in place. For example, if you have old windows, it is likely that you are paying high utility bills because of the poor energy efficiency of your home. These costs can add up over time, making it difficult to manage monthly expenses. Instead of spending a lot of money on utility costs, consider the benefits of upgrading to energy efficient windows.
Is It Time To Replace Your Windows?
How do you tell when it's time to replace the windows in your home? Here are a few signs that might indicate that you shouldn't delay the decision to install replacement windows and doors:
Temperature Fluctuations: As you walk around each room in your home, do you notice temperature changes? Drafty windows bring in the temperatures from outside, which can affect climate control. During the winter, if you notice it's cold by the windows, you should upgrade to glass and frames with better insulation.
Visual Inspection: Look at your windows to determine if they are aesthetically appealing. Old windows can drag down the overall appearance of your home. As you are doing the inspection, identify potential problems such as damaged frames, cracked glass, or anything that looks problematic.
Energy Efficiency Improvements: Even if your windows look good, you might not be able to see the problems that are happening. For example, your windows might look fine, but you could be dealing with energy efficiency issues. Hence, it is recommended that you buy energy star rated window because upgrading to higher quality products will boost the energy efficiency of your home.
Natural Sunlight: How much do you enjoy the sunlight in your home throughout the year? Old windows can block the light and make your home feel dark and dreary. Upgrade to new windows and it will brighten up your living space and boost your mood.
Noise Control: It can be frustrating to listen to the noises in the neighborhood all day long. Replacement windows and doors can offer insulation benefits that will block out the sounds outside. You can enjoy your home without listening to the dogs barking or the cars driving on the road.
As you can see, there are many reasons why you should get started with replacement windows and doors as soon as possible. Our team is ready to answer your questions anytime like design options or glass options for your windows or anything that you want to ask. For more information about these services in Webster Groves, MO, contact Masonry & Glass Systems Inc. Come to our showroom at 1503 S Kingshighway Blvd St. Louis, MO 63110. Or call to set up a time for an in-home estimate: (314) 535-6515.
Client Reviews