Once you decide to get Ballwin, MO replacement windows, you might think the decisions are over. In reality, they have just begun. You have to pick a window material, first and foremost, and then you have to pick the best style for your home. It's important to understand more about the various options to give you a better idea which will fit in with your lifestyle. Take a look at casement replacement windows to see if they are a good choice for you.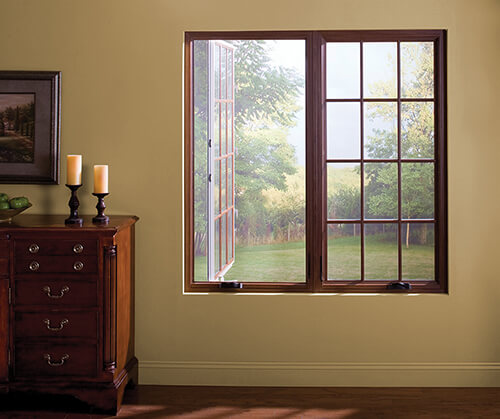 What Are Casement Windows?
Casement replacement windows are hinged at the side and open to the left or right. They open out with a cranking mechanism and their fold-down handle is simple to use. Most casement windows open to a 90 degree angle, which makes them wonderful for ventilation. Casement windows are taller than they are wide and can be customized for size or configuration.
Major Benefits
Casement windows are a popular choice for replacement windows and that is because they carry many benefits with them. These windows are a great design element that provides clean, simple lines and a full view without interruption. They are also the best operational window for energy efficiency because they close tighter against the house when the wind blows. The sleek design makes the glass visible to the maximum and the fold-down handle is out of the way when not in use. If you want natural light in any room, these replacement windows are a good fit and they work well in places where opening windows is hard, like above a kitchen sink.
Configuration Options
Even if you decide casement replacement windows are for you, there are still decisions to make. You get to decide on the glass, for example. You can get double or even triple pane glass to maximize energy efficiency. You can also put argon or krypton gas between the panes or a low-e coating to get even better efficiency and lower bills. There are even custom, designer glass options to consider for windows next to doors or in other special locations. You'll want to think about interior and exterior colors and hardware finishes giving your replacement windows the best style for your home.
Making a decision on replacement windows seems simple, but when you get into the details, it can feel complicated fast. Let the experts at Masonry & Glass Systems Inc help you with the decisions, large and small. Ballwin, MO replacement windowsare important to your home and you want to make sure everything is perfect after the installation. Give us a call for a free consultation at (314) 535-6515 and we'll give you all of the information you need to make informed decisions. You can also wander our showroom at 1503 S Kingshighway Blvd St Louis, MO 63110 for ideas and to get a start on your preferences. We're here to show you around and answer any questions you have.