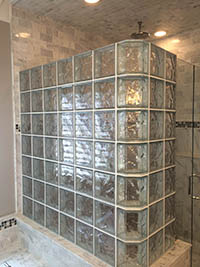 This is one of our latest glass block shower installs. A glass block shower need not be huge walls but can very comfortably sit on a knee wall. After we produced a rendering that the client approved the tile was installed. We then confirm the glass block layout (Photo #1).
The glass block wall is then constructed and installed (Photo #2).
This particular shower design incorporated a door. Masonry &n Glass Systems is often asked about shower door installation as it relates to glass block. As you can see our bullnose block offers a terrific transition to the shower door (Photo #3).
The bullnose jamb allows the shower door to be silicone to the glass block (Photo #4).
In this particular example the client wanted a door lite next to the glass block (Photo #5).
The overall effect is a clean detail that looks great in the clients new bathroom (Photo #6).
Masonry & Glass Systems partnering with Mulia making glass block showers more affordable, easier to design and more efficient to professionally install.
With our ability to ship modular glass block walk in showers or other designs we can provide a single source solution for your new bathroom needs. To further make the process simple and yet beautiful we can also provide custom curbs for the glass block walls to sit on manufactured by WEDI and fabricated by Masonry & Glass Systems. These custom built curbs are installed on top of our Wedi shower pans that are easily cut to fit any shower dimension.
Glass Block Shower Installation
Call us Mon-Fri at 314-535-6515
or
Click the link below to receive a free quote for your Doorless Shower

If you or someone you know is looking for glass block shower designs, a doorless shower or any other bathroom project where water and moisture is a risk, please contact Masonry & Glass Systems in St. Louis. For more information, or to see more photos of doorless showers, check out www.wedishowersystems.com or email them at: lmagee@www.masonryglass.com or call 314-535-6515