Replacement Vinyl Windows by Restorations Windows
Once the decision on replacing your windows has been made one of the most important decisions is what kind of glass package will be in your new windows. Too many people assume that all the replacement vinyl windows are the same and do not ask the details on the glass that they are receiving. Our Restorations windows come with a terrific dual pane glass system that gives a U factor of 0.27 (The lower the U factor number the more energy efficient the glass is).
During most of the Month of April a better glass package is available at no additional cost.
That package with Masonry & Glass Systems' Restorations windows is Ultra S Glass, a triple pane glass package. This glass has a U factor of 0.19 which is over 25% more efficient than our standard glass and again it does not cost any more money during the promotion period. The additional of this glass option will save you even more money as you know your windows contain the latest in glass technology at no extra cost.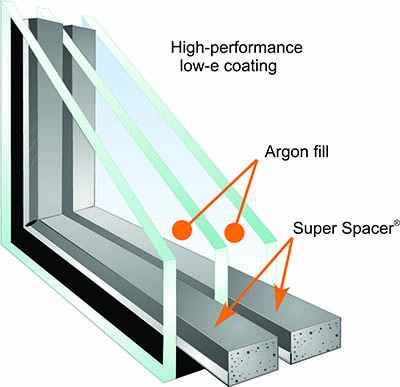 If you or someone you know is looking for replacement windows in St. Louis, please contact Masonry & Glass Systems in St. Louis. We specialize in replacement windows, sliding windows, casement windows, garden windows, bay windows, storm windows and historic windows. For more information, please email us at: lmagee@masonryglass.com or call 314-535-6515
Replacement Vinyl Windows in St. Louis Stocking Dealer for Restorations Windows
Masonry & Glass Systems offers the best vinyl window installation in St. Louis.
The best windows, at the best prices, with the best window company.
Call us Mon-Fri at 314-535-6515
or
click the link below to receive a free quote for your new replacement doors and windows

4 Reasons to Invest in Replacement Vinyl Windows from Masonry & Glass Systems
1. Stunning new Cove-Mould Face on exterior creates a detailed wood-look.
2. World Class robotic construction adds elegance while eliminating air leaks.
3. The buttery smooth operation of the window due to the balance of Restorations' Endura-Force™ design.
4. Invisible tilt hardware system enables one-touch operation of the tilt-in feature.
Beauty, elegance, energy efficiency and easy function! Four great reasons to invest in Soft Lite's Restorations Windows by Masonry and Glass Systems!