The wedi shower is a leakproof and moldproof system that makes any custom shower easy to create. The product is available in a vast array of shower base sizes as well as a 3 x 6 base with an offset drain for tub replacement with a shower. The Wedi shower system is very lightweight and so transport into a jobsite is easy. It can be fabricated in the house unlike cement board where cement dust is both a safety and a nuisance. All of the Wedi Fundo shower bases come with their own drain system including a square drain to make tile cuts a breeze. Soap niches and curbs are available in various sizes to make installation fast. In many instances tile installation on a Wedi shower can begin the same day as the Wedi was installed to help speed completion of the job and give the homeowner use of their bathroom sooner. Masonry & Glass Systems in its St Louis and San Antonio offices stock Wedi products and we can also ship to most parts of the country.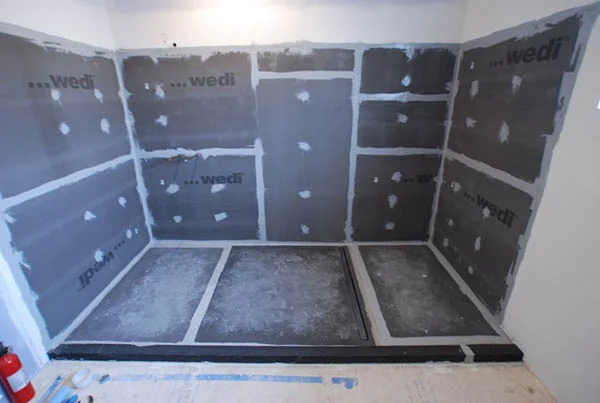 It offers:
Extremely fast installation
100% Waterproof, No exceptions
No organic material to facilitate mold
Will NOT Wick water
Easy to cut with common tools without dust
A STOCKING WEDI SHOWER DEALER
Masonry & Glass Systems can ship Wedi shower system almost anywhere. We ship custom Wedi Shower Systems every week!
We ship to all 48 lower states!
Call us Mon-Fri at 314-535-6515
or
click the link below to receive a free quote for your Wedi Shower System


If you or someone you know is looking for the Wedi Backer Board to complete a glass block shower project, a doorless shower or any other bathroom project where water and moisture is a risk, please contact Masonry & Glass Systems in St. Louis. For more information, email them at: lmagee@masonryglass.com or call 314-535-6515