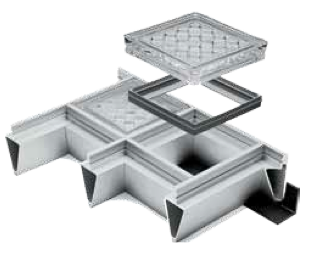 Glass block pavers with aluminum supporting grid systems are an excellent way to move light into lower level spaces and add a unique architectural element to a commercial, office or retail building. These paver systems can be designed for both pedestrian and vehicular traffic and come in a 8″ paver design. Masonry Glass provides nationwide supply and regional installation of glass block floor systems. IBP's original GlassWalk product line, paver-based floor systems, remain popular with builders, interior designers, and architects who prefer the familiar dimensions of glass block.
Simple to install and engineered for high foot traffic, GlassWalk paver systems are proven in hundreds of applications.
Pavers are available in 8″×8″×1″ (nominal).
Glass block pavers